Learning Objectives
After successfully completing this topic, you will be able to
describe the process for appointing the Secretary of the DBPR,
list some of the important divisions within the DBPR,
describe the intent of the legislature in regulating professions in Florida, and
state for how long the testing service must retain examinations.
Organizational Structure
The DBPR regulates licensed professionals in Florida. The governor appoints the Secretary of the DBPR with the approval of the Senate.
Division of Professions – assists professional boards and regulates businesses and hires professional testing vendors.
Service Operations and Licensure has several important bureaus—

Education and Testing – monitors exam development, and course content for regulated professions

Central Intake Unit – Processes license applications and issues and renews licenses

Central Customer Contact Center

Division of Florida Condominiums, Timeshares and Mobile Homes – Provides consumer protections and complain resolution for Florida purchasers and owners of condominiums, timeshares and mobile homes.
Division of Real Estate – The DBPR established a separate division for real estate because there are so many licensed real estate professionals.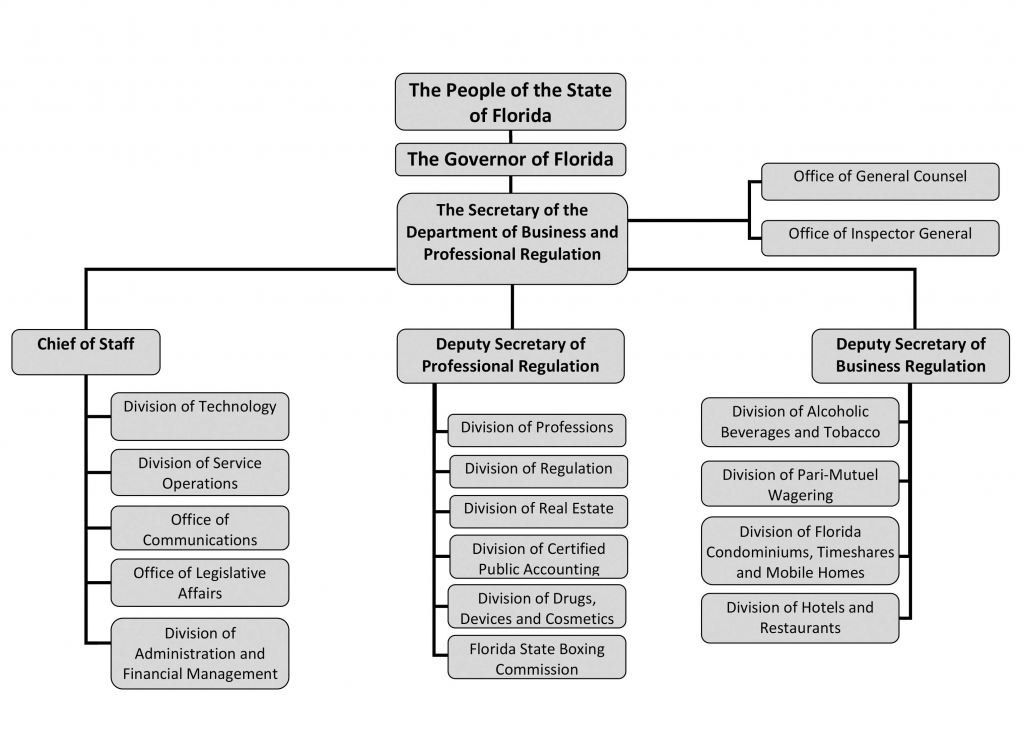 Legislative Intent
It is the intent of the Legislature that
persons who want to engage in any lawful profession shall be entitled to do so as a matter of right if otherwise qualified.
professions be regulated only to preserve the health, safety, and welfare of the public under the police powers of the state.
The professions shall be regulated when:

Their unregulated practice can harm or endanger the health, safety, and welfare of the public, and when the potential for such harm is recognizable and clearly outweighs any anticompetitive impact which may result from regulation.

Less restrictive means of regulation are not available.

Neither the department nor any board may create unreasonably restrictive and extraordinary standards that prevent qualified persons from entering the various professions. Neither the department nor any board may take any action that tends to create or maintain an economic condition that unreasonably restricts competition.
Department Powers and Duties
The DBPR is one of the departments in the executive branch of the state. The Department can investigate complaints, issue subpoenas during the investigations, issue cease and desist orders to persons who are practicing without a license, and issue citations to licensed individuals for violations of the law.
Licensing examinations
The Division of Professions employs a professional testing service (Pearson Vue) to administer the state license examinations. The examinations must reliably measure a candidate's ability to practice real estate. The testing company must retain the examinations and the associated materials for two years. The examinations are confidential. It is a third-degree felony if a person copies or steals a copy of an exam.