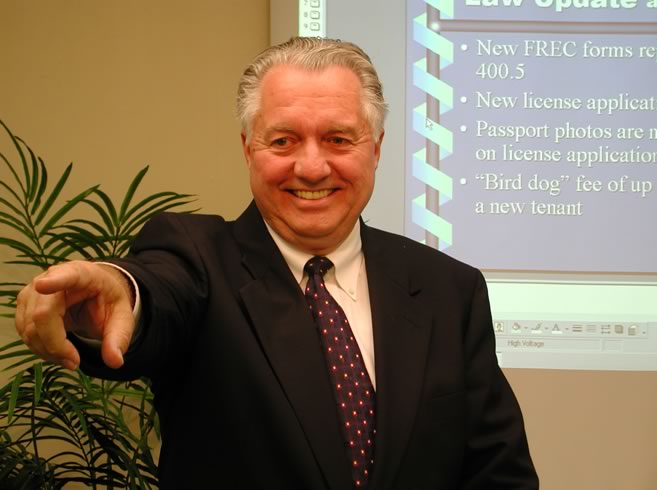 Click on the "play" button to listen
Hello, I'm Edward.
Thanks for enrolling in the sales associate licensing course. We designed this course to give you the information you need to obtain your Florida real estate sales associate license, and to give you the basic professional knowledge to help you in the early years of your career. We have worked to make the instruction as painless yet thorough as we can by using creative techniques to keep you awake, interested, and engaged.
This is Unit 1
This is Unit 1 of your course. It's not heavily tested in the course exam or in the state exam. You can expect to see one question from this unit.
If you like, you can change the playback speed for this narration by clicking on the three dots at the right. You can increase the speed to help you move through the material as fast as you can comprehend it. When it's time to buckle down and study, you can slow it down for better retention. Remember, the text and the narration are protected by federal copyright laws. You can't give or sell this product to any other person.
Learning Objectives
After successfully completing this topic, you will be able to
state the time limit to complete this course,
describe the passing score for the final exam, and
state the time limit for the course completion certificate.
Course Time
You have six months to complete the course, although many of our students complete it in a matter of just a few weeks. Your course is effective for six months from the date of enrollment and will expire on 11:59 pm on the expiration date. You will have to request an extension and pay a fee in order to continue your course. This is a mastery-based course, so there is no requirement of clock hours to complete the course. We anticipate that the average student will complete the course in about 63 hours.
Course Instructions
This is a self-paced course divided into 19 units that you must complete in sequential order. You are expected to read the material, then take a quiz based on the material you have just read. You may not proceed to the next topic until you have completed the previous topic. When you have completed all the units, you may take a practice final exam to help you evaluate whether you are ready for the final exam.
Final Exam
The final exam has 100 questions. You must get 70 questions correct (70%) or more to pass. You have three hours to complete the final exam. You cannot suspend your exam to return later. At the end of three hours your exam will be stopped and graded based on the number of correct answers submitted. If you fail your first attempt at the final exam, you must wait at least 30 days (but not more than one year) to take an alternate exam.
Submit Your Affidavit
In order to receive your course completion certificate, you must electronically sign an affidavit that you have personally completed each unit of instruction and that you completed the final examination without outside help. You must also affirm that you have not copied any questions from the final exam. You will need to complete this step before you receive your course completion certificate.
Prelicense Course Expiration
When you pass the course exam, the school will give you a course completion certificate. The certificate will expire after two years. If you have not successfully passed the state exam within the two-year period, you will have to retake the prelicense course.
Apply for Your License
You must apply for your license before you will be approved to take the state exam. You should allow at least three weeks for your application to be approved. Your approval is good for two years, so you should apply before you complete this course so you'll be ready to sit for the exam soon afterward. Here is the link to apply for your sales associate license.
Social Security Number
You must have a Social Security number to obtain your Florida license.
Get Your Fingerprints
You must submit fingerprints as part of your license application. The fingerprints must be submitted electronically. You can get more information from the state on the application material you found on the link above.
Candidate Information Booklet
Students are encouraged to read the Candidate Information Booklet, found at the Department of Business and Professional Regulation web site, before making a reservation to take the examination.
Preparing for the State Licensing Exam
Once your application has been approved by the Division of Real Estate (DRE), Pearson VUE will mail you an eligibility certificate that contains a candidate ID number and a toll-free number for Pearson VUE, the testing vendor.
When calling for your appointment to take the exam, you'll need your
name, address, and phone number,
eligibility certificate, and
eligibility ID number.
You'll be asked for
your desired testing location, and
your credit card information to pay $36.75 for the exam.
Exam Day Procedures
On exam day you should bring
your DBPR eligibility certificate,
two forms of signed photo identification showing your full name, such as driver's license or a passport,
your prelicense course completion certificate, and
a calculator.
You should arrive at least 30 minutes before your scheduled exam. The staff will take your photo as part of the check-in procedure. The staff will seat you and help you understand how the computer works.
The State Exam
The state exam has 100 questions. You have 3 ½ hours to finish. Passing is 75% correct.
You have two years to pass your state exam, or the approval expires. You will have to make a new application in order to sit for the state exam.
State Exam Tip
In several areas of this course, you will find State Exam Tips in a box like this one. These tips are sent to us from the Bureau of Education and Testing so we can help students focus on the questions that many exam candidates miss frequently. These tips may help you pass the exam.
Student Support
For Customer Service or instructor questions, please contact us at
admin@realestate-school.com.
All emails will be answered within 24 hours including weekends.
For Technical Support call (850) 893-7000 between 9:00 am to 5:00 pm Eastern Time.