Learning Objective
After successfully completing this topic, you will be able to recognize and avoid being involved in mortgage fraud.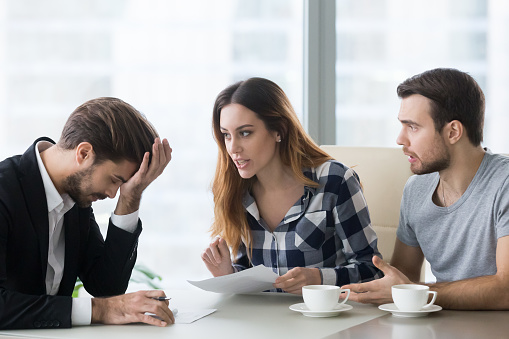 Common Types of Mortgage Fraud
Mortgage fraud refers to an intentional misstatement, misrepresentation, or omission of information relied upon by an underwriter or lender to fund, purchase, or insure a loan secured by real property. Mortgage fraud was prevalent in the early 2000s and was a part of the reason for the financial crisis that started in 2007. Lending requirements have been tightened since that time, but lenders, appraisers, and licensees must avoid joining in any of the practices described.
Straw buyers
A person who makes a purchase for another person who is unable to do so is a straw buyer. It is legal for a son to buy groceries for his invalid father. It is NOT legal for a person who is 25 to buy a case of beer for an 18-year-old.
It is mortgage fraud when persons consent to the use of their names and personal information for a fee so different people can obtain mortgage loans but do not intend to live in the homes. Straw buyers often sign fake documents and may be part of a mortgage fraud ring where a group of people such as a lender, appraiser, broker, etc. are all taking part in the scheme. This type of scheme is also called a nominee loan.
No-document loans
A no-document loan is a loan made by a lender based solely on representations made by the borrower about the borrower's assets, liabilities, and income. These "no-doc" loans were an invitation for fraudulent applications. Many of these borrowers who lied on their applications were unable to make their mortgage payments and subsequently defaulted on their loans.
Red flags
A licensee should take care when noticing some of the following "red flag" activity is ongoing in the area.
Inflated appraisals
Inflated appraisals follow inflated contract prices. The corrupt appraiser uses comparable sales from a different neighborhood to justify the price. The lender makes the loan. The conspirators pay the seller the additional $10,000 fee, then pocket the difference.
Inflated contract prices
In many instances, mortgage fraud schemes began with inflated contract prices. Assume that a seller, buyer, realtor, and appraiser are working together. The seller lists the house for $180,000. The seller agrees to sign the buyer's offer of $240,000 if the buyer will pay him $190,000. The buyer and seller agree. The buyer applies for a mortgage using the $240,000 price.
Other red flags include
• higher than customary commissions and fees paid to brokers and appraisers, and
• asking a borrower to sign a blank application or blank employee or bank forms.
Ethical and legal practices
If a licensee becomes aware that there are some red flags in a transaction, it's important to ask questions and to report any fraudulent activity. Failure to do so may result in the licensee being charged in a mortgage fraud case.